If Life Gives You Lemons...
Here at New Society Publishers, we are lucky enough to work with a fabulous assortment of authors, artists, designers, printers, and a host of other publishing professionals. More than 99% of the time, the process of publishing one of our books is smooth and relatively hassle-free, which is a real testament to the talent and commitment of all the people involved every step of the way. However, mistakes sometimes happen - everyone is human.
When Franke James' new book, Bothered by My Green Conscience: How an SUV-driving, imported-strawberry-eating urban dweller can go green came off press, there was a printer's error - the inside of the cover was supposed to be a "wow!" red and instead it was an ordinary white. Will it affect sales? We hope not. Does it affect the artistic merit of the book? Possibly. Was it frustrating and upsetting for the author? Absolutely.
But one of the things that first drew us to Franke James was her ability to view a black and white (or white and red) situation and show us not just the shades of gray but also the crazy stripes and polka dots hiding under the surface. This is the woman that could look at her "Before" driveway and see the "After".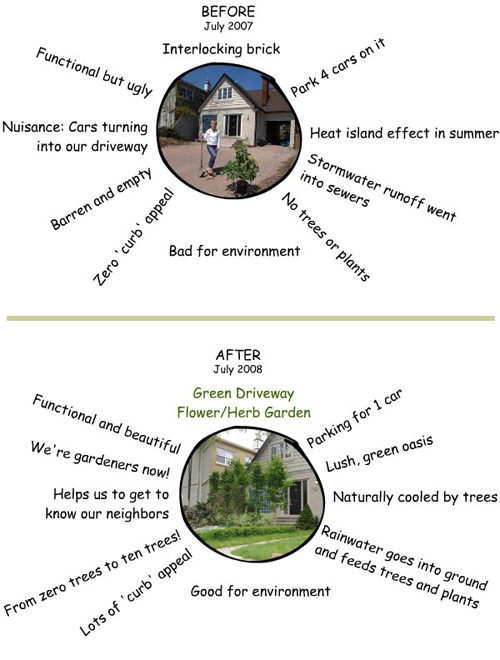 So what does all this have to do with the printer's error? Once again, it's best to hear it in Franke's own words. Her latest visual essay No one will know, except you, is a fantastic illustration of turning challenge into opportunity. And, like so many of Franke's other essays, it's got people talking. The Globe and Mail Book Section linked to Franke's essay on their Twitter Feed today and Joshua Tusin posted an excellent review of both the essay and the book on Blog TO.
As a result of all this, Franke has designed a series of colorful and creative Green Conscience bookplates. Got your book already? Download the bookplates here (scroll down to the end of the essay for the links). And if you haven't got the book yet, order your copy here.
What's on your green conscience? Today is Earth Day after all. Tell us about it in the comments below.
Comments
blog comments powered by

Disqus